The Samsung Galaxy S6 takes Samsung straight past its failures in the S5, all the way up the road to flagship-worthy and absolutely stunning.
With its glamorous, glass and matte metal body finish and a massively de-cluttered Android 5.0 lollipop, the S6 has shed five generations of plastic and made itself fit to compete with the latest smartphones in the market.
The painstakingly tapered corners on the S6, along with the classy unibody aluminum chassis and latest Gorilla Glass 4 finish make this latest galaxy exceedingly eye catching and sturdy, while giving it a much-needed premium feel.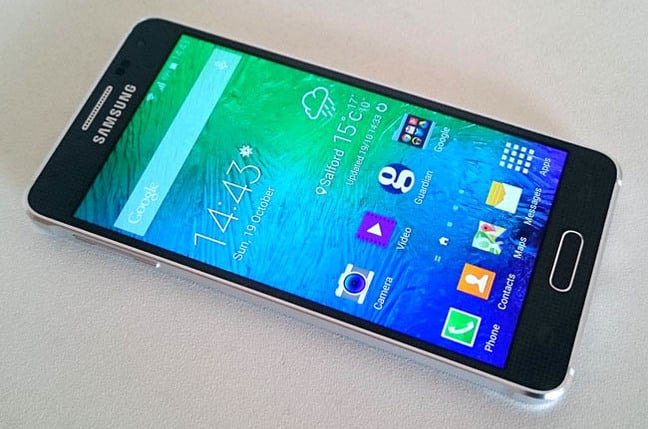 Apart from a visual makeover, the Samsung galaxy s6 also sports various tweaks, upgrades and exciting new features.
The interface on the S6now has a significantly scaled down version of the TouchWiz that keeps with Google's 'material design'. The set-up process is also a lot easier and various tutorials help with S voice and the fingerprint scanning process.
While the multi-window feature still allows you to run two programs at once, instead of the usual toggling and pop-up menu selection, the S6 offers a launch option from its'Recents' tray. This makes the experience feel more seamless, since you canstill drag and resize windows turning them into floating bubbles like the Note 4.
What's more, Samsung has opted to use its own processor, the Exynos7410 that has managed to outperform Qualcomm's new Snapdragon 810 both in terms of speed and efficiency.
Unlike most smartphones, Samsung has worked wonders with its 2550mAh battery. Even with its QHD 5.1-inch screen, expect an easy 14 hours of video on a single charge, which measures up to an easy day and a half of average usage. If that wasn't enough, Samsung has bumped up its charger as well, giving you a 70% charge within 30 minutes
Moving on to megapixels, the S6 camera uses the same Sony IMX240 16 MP as that on the Note 4. Don't get discouraged comparing it with theever rising MP numbers on smartphones these days, the camera on the S6 is insanely fast because of its f/1.9 lens. It is probably the fastest camera lens on any smartphone since they all hover around the f/2.0 number lens (smaller the number faster the lens). This makes the S6 far cleaner and the indoor shots well-defined with barely any noise
Android phones were the first to introduce and incorporate fingerprint sensors on phones, yet Apple was the first to use it well. Now Samsung is trying to reclaim the title with the new generation fingerprint sensor on its S6 and S6 Edge working with a touch instead of swipe motion. Moreover, Samsung has built biometric security deep into the heart of the TouchWiz by including the sensor for making secure transactions apart from using it for the basic unlocking function.
This is yet another Apple vs. Android battle which Samsung is taking by storm. With its new Samsung Pay announcement it has triggered excitement in the market by not only matching the NFC-based touch transaction of Apple but by also being compatible with magnetic strip payments through terminals. This ironically gives it an 'Edge' over the market.
While everything was going good with Samsung's decision to go metal and slim, it has had to let go of the removable battery and expandable memory, both features that seem to be fading away among smartphones today.
In fact, it is particularly this feature that has been a USP for Samsung. It has led to the disappointment of millions of Galaxy users who despite categorically applauding its metal transformation, felt as though the company was sacrificing its integrity.
Check out the complete price list and specifications for Samsung Galaxy S6
here
.
Amidst a plethora of exciting new features and a revamped physique the Galaxy S6 has received much criticism for sacrificing its integrity, as it has received appraisal for having caught up to current smartphone trend. However given theprice of the S6 in India (Rs. 49900), the S6 will most likely be a popular option among other smartphones.Do share your thoughts about Samsung S6 in the comments below.